The Knife of the Traitor
A downloadable visual novel for Windows, macOS, and Linux
Bones and guts, bones and guts.
The Kingdom of Ulla was made of the bones and guts of their enemies.

The new successor to the throne was the bloodthirstiest of all the heirs.
But inside the kingdom was a traitor.

He brought down all.
Even the new successor.
And all traces of her vanished mysteriously...

...Until today.
The Knife of the Traitor is a short visual novel done for Nanoreno 2012. A comedy with bits of mystery and romance!
♦ CHARACTERS♦
She woke up with a knife on her neck! Who did it? It's up to you to find out.
Lady Os loyal servant and fanbird.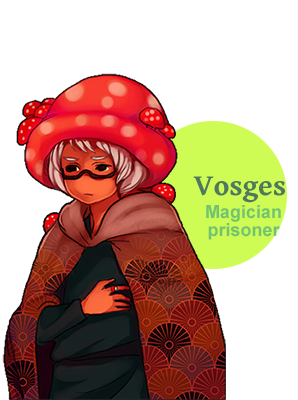 Self-taught magician. Hates Os.
An ill manered pet dog. Hates Os.
All I can say about him is...He hates Os too.
♦ CREDITS♦

Story, art, GUI and programming by me, Clua/Chegovia
Script editing, proofread and programming by Anarchy
Music by 8bitpeoples
♦
EXTRAS
♦
LSF Thread(Contains translations in German/French/Russian/Dutch/Hungarian)
Fanworks and extra artwork(Contains spoilers)
Comments
Log in with your itch.io account to leave a comment.
Hello! I just fixed the download section. I'm not sure why it wasn't working.
Thank you for letting me know!
Mac Download not working?
Hello! Sorry for the lateness on this. I just fixed the download section. It should work now. Thank you for letting me know.
it wiont let me download it
Hello. I'm so sorry for the late reply but I fixed the download section. It should work now. Thank you so much for telling me!
Just thought I'd let you know that I used art from your game in a video I made here:
If you're offended and want me to take it down or something, just let me know. I did put the link to this page in the description, though.
(BTW I ABSOLUTELY LOVED THE BAD ENDINGS IN THE GAME, LIKE SERIOUSLY; ESPECIALLY GERVASE'S, I'M A SUCKER FOR CANNIBAL ENDINGS IN GAMES OKAY~)
orz. This is a terribly late reply but thank you so much for playing the game! I'm glad you liked also the bad ends haha. Thank you also for including it on your video! I'm totally fine with fan made stuff like videos and fanart. I hope you had fun :D!